|Poetry|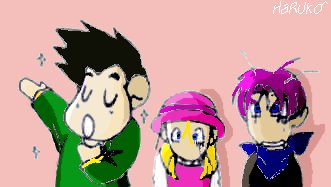 Goten: "and then, my love, we shall~~"
Marron:"..Ano..Goten-kun, nani shiteru no?"
Trunks:"..doaho.."
---
---
Welcome to the poetry corner! The place where people emotionally express themselves with words..(sigh)..wish I could write one as good as theirs! You can send us your works too! Just e-mail it here!
See what have we here so far!
| | | |
| --- | --- | --- |
| Writer | Title | About.. |
| Marron | | About Trunks and Marron |
| Marron | | Trunks to Marron |
| Marron | | Marron to Trunks |
| Marron | | Bra to Marron and Trunks |
Share us YOUR poetries to poem4gtm@yahoo.com
---